Paragon Storage SDKs for Mobile Devices
Support of USB storage devices by mobile applications is rather an exception than a rule, even though their utilization would have been appreciated by many users in backup utilities, file managers, and many other programs.
A modest attempt to change this situation has been done in Android 6 (Marshmallow) by implementing partial support for FAT32-formatted external storage. Obviously, it is not enough. Beside certain file-size limitations of FAT32, support of only one file system in the latest version of Android is a problem for developers who would like their apps to run on the majority of phones and tablets, and even bigger one for those planning to create cross-platform apps.
Paragon Software's Storage SDKs for Android and iOS help fill this gap. Based on the industry-proven cross-platform Universal File System Driver library, they provide an abstraction layer for multiple partitioning schemes (MBR, GPT, APM) and file systems (NTFS, HFS+, FAT32, ExFAT, and ExtFS). This lets developers focus on workflows and usability of their programs rather than worrying about low-level storage functions. Developers are thus freed from having to implement support for the various popular file systems, and that considerably reduces development and QA time and effort.
Storage SDK for Android
Paragon Storage SDK for Android includes Paragon UFSD SDK and Paragon USB Mass Storage SDK.
Target Audience
Vendors of portable storage with the USB interface are able to add value to their companion applications or can bundle Paragon's technology to provide unlimited read/write access to their branded storage devices through Android Storage Access Framework.
Android application developers are also able to add value to their products by incorporating support for USB storage devices formatted in Windows, Mac OS X and Linux.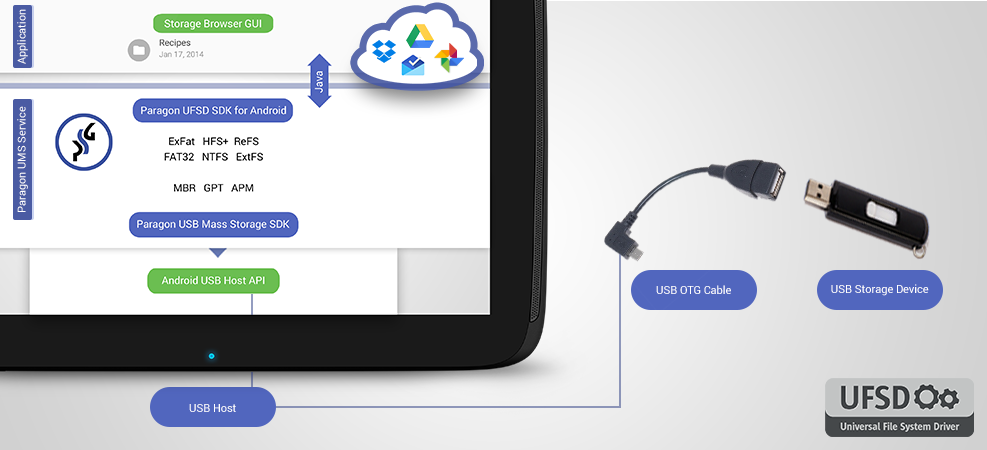 How it works
Paragon's UMS stack is based on UFSD SDK that exposes interfaces similar to those implemented in Java's native java.io package, providing steep learning curve and easy adoption by developers.
As a real-life example of how the UMS SDK can be used, please try a beta version of Paragon's USB plugin for Total Commander for Android on any Android device that supports the USB Host capability:
The plug-in has already been downloaded more than 400,000 times, which clearly demonstrates end-user interest in this capability.
Product Features
Supported file systems: ExFAT, NTFS, HFS+, FAT, ExtFS, ReFS (configurable)
Supported filename character sets: Unicode
Supported USB storage: USB 2.0, USB 3.0. Please note that an external power supply may be needed to work with USB HDDs.
System Requirement
Android version: 3.0 and later
Android API level: 13 and later
Platforms: ARM, x86 32 and 64 bits
Programming language: Java
Storage SDK for iOS
Paragon Storage SDK for iOS provides support for multiple file systems (FAT32, ExFAT, NTFS, HFS+, ExtFS) and can be used to build external storage management application for recent iPhone and iPad models making it an attractive proposition for Lightning-to-USB adapter vendors as well as storage vendors. Paragon Software also believes it will spur the development of iOS Lightning to USB storage adaptors – the accessories that let iOS users access data stored on existing USB storage from iOS devices, opening up a whole new market for iOS accessory vendors.
Target Audience
Vendors of portable storage with the Lightning interface are able to add value to their companion applications by incorporating support for many file systems with no additional development effort.
iOS accessory manufacturers are able to develop an entirely new class of iOS accessories that utilize the Lightning interface to provide access to USB storage devices with minimal software development costs and time to market.
How it Works
A demonstration of a sample iOS application that utilizes the iOS UFSD SDK is available on Paragon Software YouTube Channel:
The UFSD SDK for iOS provides custom C++ primitives to browse directories, create, read from and write to as well as delete files on volumes formatted to any of the supported file systems.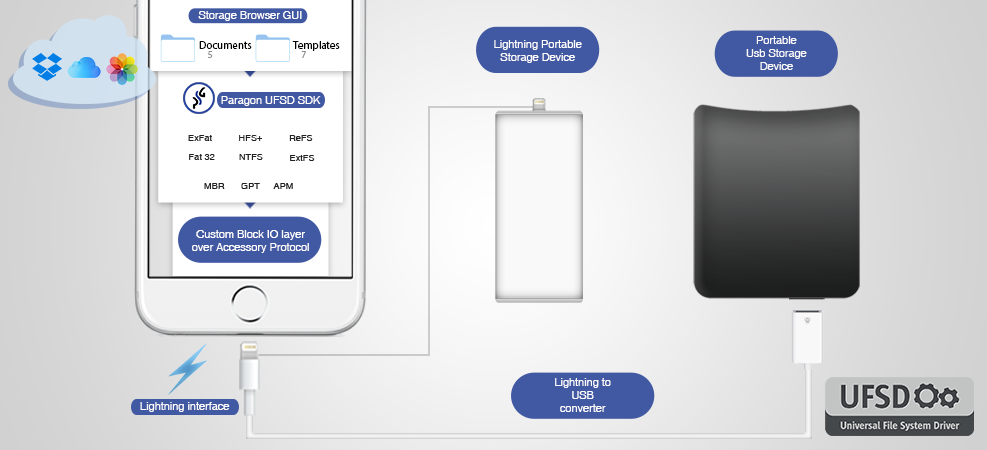 Product features
Supported file systems: ExFAT, NTFS, HFS+, FAT, ExtFS, ReFS (configurable)
Supported filename character sets: Unicode
System Requirement
iOS version: 7.0 and later
Devices: iPad2 and later iPhone4 and later
Programming language: Objective C / C++
Additional Services
Paragon Software is also offering maintenance and support as well as development and consulting services for these SDKs.
Expertise You Can Trust
20 years of industry experience in helping customers differentiate their products and achieve a competitive advantage
The core file system technology is based on Paragon's backup/restore/partition management products, which have been in production use in many millions of installations since 1994
Paragon Software Group is a premium technology partner of Microsoft, delivering exFAT and NTFS file system solutions to chipset companies and device manufacturers. Among our clients are: Intel, Nvidia, Broadcom, Huawei-Hisilicon, Marvell, Acer and many other companies.
To receive an evaluation/demo version please contact us: 1-888-347-5462